During the past few months, we have published a collection of COVID-19 stories on our social media pages sharing what some of our past pupils have been doing either to help fight the virus or help their communities during this challenging times.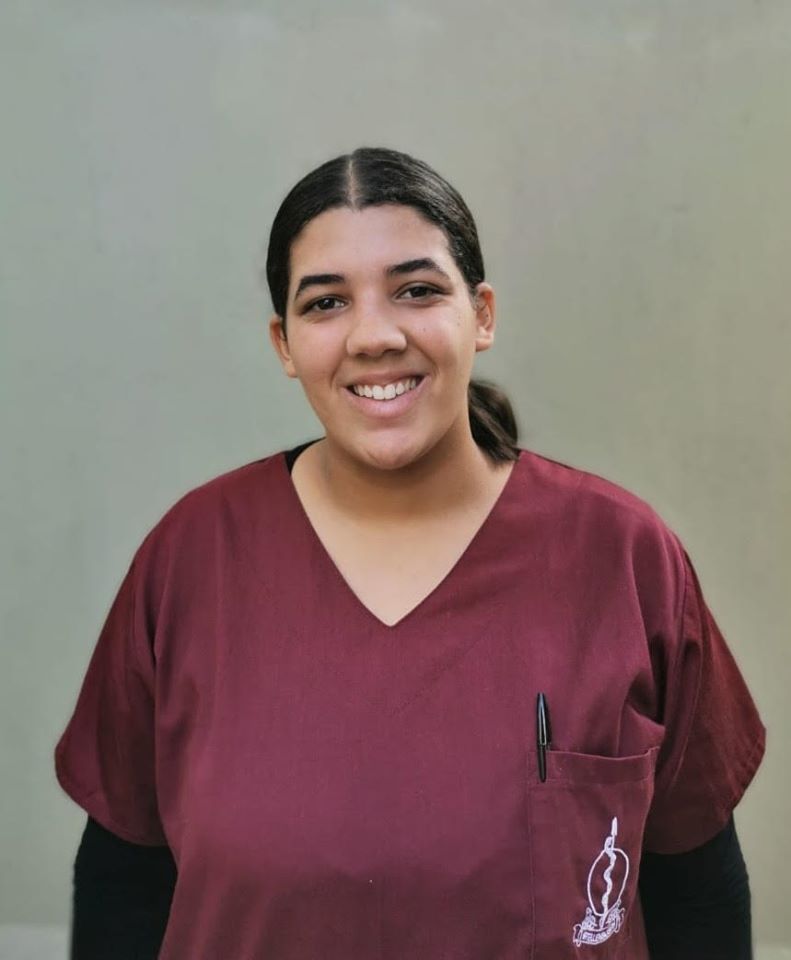 Rustenburg Alumna Hannah Abrahams Crocker (E'15) is assisting with the COVID-19 pandemic. This is her story:
"I am currently a 5th year medical student at Stellenbosch University, and a volunteer at Tygerberg Hospital on the COVID-19 team. The Stellenbosch students have definitely stepped up and are assisting on the COVID-19 helpline, with contact tracing, in the wards, by printing 3D visors, collecting supplies for those in need, and working at the screening and testing centre.
I initially started working at the call centre, but there was then a call for more senior students to assist with screening and testing and I knew it was something I had to do, even though it was scary. I have been working there for four weeks now with the amazing team of nurses, doctors, and cleaners who are ensuring it runs as smoothly as possible.
Before my first shift, I sat down with my family to make sure they were comfortable with my decision. While I'm working there, I am trying my best to self-isolate which means distancing myself from them which I knew would be challenging, but the right thing to do in order to protect them." (21 April 2020)
---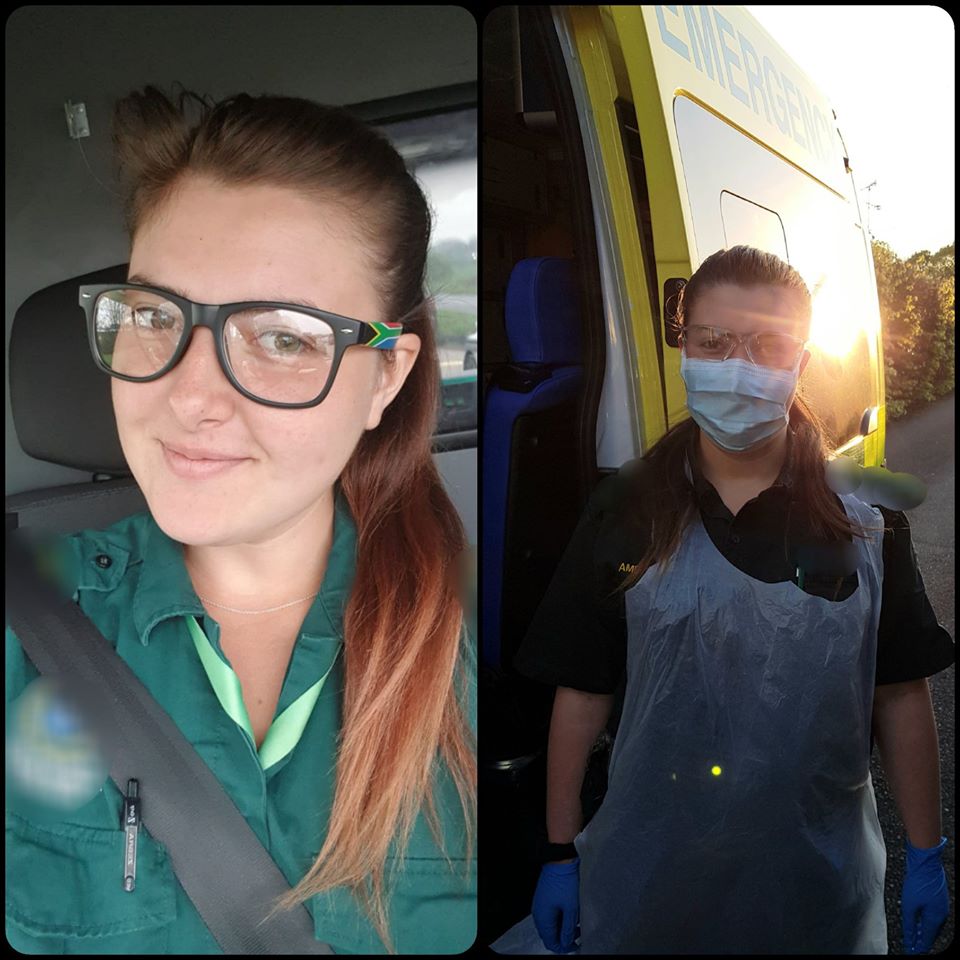 Dominique Nothnagel (E'15)
"After matriculating from RGHS in 2015, I completed my medical training and then moved to the UK. For the past 3.5 years I have been working on the frontline for the Ambulance service on behalf of the National Health Service (NHS) in the UK. I have worked in various different departments including Mental Health, Patient transport, Organ and High dependency transfers, medical cover for events and front-line.
My main role is working in the front-line department in a pre-hospital setting responding to emergency calls in the community. The calls that we respond to varies greatly and can be medical or trauma based. The training we have to complete prepares us for all types of situations and environments as we are the first to arrive on scene and don't always know what we are stepping into. The various tools we have such as our emergency driving protocols, all of our equipment and our medical knowledge and skills help us in delivering the best patient care in all areas of the community and medical setting. The role involves not only taking people into hospital safely but also hospital avoidance. We seek and apply alternative care pathways in the community if hospital attendance is not necessary, this is especially important during this difficult time. I help in providing a service that is constantly adapting and revolves around helping and meeting the needs of people in crisis to best of our ability.
The level of care, empathy and support that I provide to people has not changed throughout this pandemic, we have merely adapted our protocols to ensure the best possible protection to us and the people that we treat. We have to wear PPE (Personal Protection Equipment) now to every job that we attend and we have enhanced our disinfectant cleaning policies. Even with the increased level of protection we are still at a greater risk to not only ourselves but our families too. I am proud of what I do and I am even prouder of the people I work with and everyone else playing their role in combating this pandemic. I am proud of my home country, South Africa, for all of its effort in keeping the figures as low as possible and I thank those who are adhering to the necessary measures. This is a difficult time for many of us but we can pull through with a combined effort. This virus has brought a lot of sad realities forward and with the situation in the UK my colleagues and myself are faced, with saddened hearts, to make many very difficult decisions. This time makes me miss my family back home even more but I am comforted and grateful for being able to communicate easily with them through social media platforms. I have only my brother and myself in the UK and we both work for the Ambulance Service.
I have felt first hand how horrible this virus can make someone feel and the detriment it can have on someone's body and health. I have been affected by the virus and had to self-isolate for 3 weeks after my boyfriend (who also works for ambulance service) and I developed COVID-19 symptoms. My symptoms ranged from mild (sore throat, headache, fever) to more moderate (shortness of breath with chest pain, non persistent dry cough, body aches and fatigue) but the weirdest symptom was the loss of smell and taste. Unfortunately we were in the frustrating situation of not being able to be tested for confirmation as in the UK testing was quite limited and only happened if someone was admitted into hospital. We tried several times to obtain a test but were told that due to having symptoms already for several days that the test would read a false positive so we were left with a lot of uncertainty. Recently my boyfriend and I obtained antibody test kits from a colleague and we both tested positive for having COVID-19 antibodies which confirms that we have had the virus and that our bodies have developed some level of immunity but doesn't mean we cannot develop symptoms again. I am now fully recovered and back to working on the frontline caring for those being affected and suffering from an emergency incident. I am currently working on a run of six 12 hour night shifts and hope for the best outcome for all of the people I come across." (27 April 2020)
---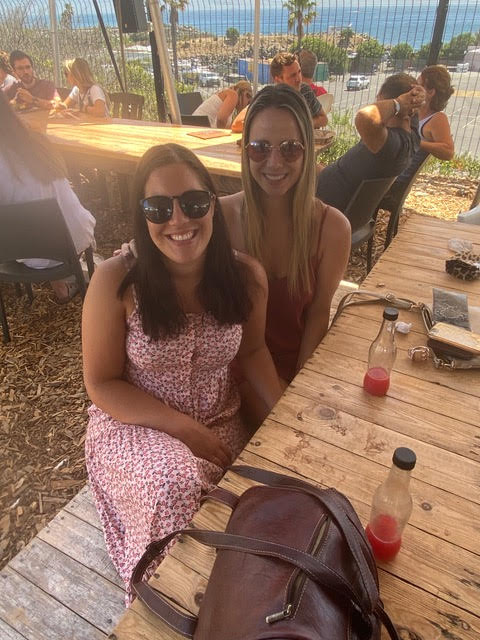 Kelly-Anne Hodge and Kaylin Simmons (E'09)
These two young ladies, along with two other friends, started a charity initiative called One Bag Full, when lockdown was announced and realized there was a need to help those affected by the COVID-19 virus long after lock down ends.
"We challenge people to use their time during the lock down period to give back to those less fortunate by spending a little time everyday collecting items they no longer need. We post different categories or items daily on Instagram as inspiration for what to look for, which people can then collect in their bag. Our challenge is a 14-day challenge and then at the end of lockdown, there will be three drop locations (Rondebosch, Constantia and Greenpoint). From there we will deliver these 'bags of love' to the Siyakhula Community. Siyakhula is a learning centre based in Langa, that provides support to hundreds of families through their educational programs, the Langa Hockey club and their pensioners groups.
When lock down got extended, our goals expanded as well. The harsh reality for millions of South Africans is if Covid-19 doesn't kill them, hunger could. We started brainstorming ways in which we could focus on feeding the Siyakhula community as well. We have started delivering nutritionally balanced meal packs using the NGO Rise for Hunger to source and distribute these meal packs. One meal costs R2.90 and consists of enriched rice, soya protein, dehydrated vegetables and a vitamin sachet. For just R8.90 a child can receive three meals a day and just R122 for two whole weeks. We have already been able to deliver meals to 344 families and have another delivery going out this week as well with additional supplies to hand out (Xhosa children's books and sanitary products for women) which were donated to us.
Our aim is to deliver as many meals to those in need as possible and continue doing so even after lockdown has ended. We have only been able to do this with the help our incredible community and every contribution makes such a big difference. For anyone wanting to put together their own bag or donate towards the meal packs, they can go to our website, www.onebagfull.com or our instagram @onebag_full. Together we can get through this." (25 April 2020)
---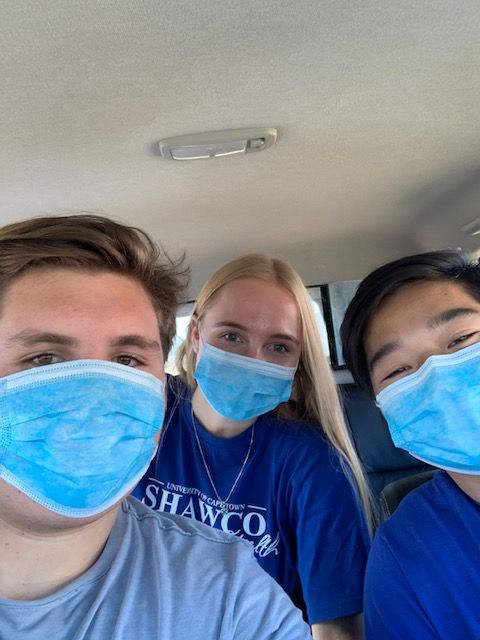 Hannah Schaefer (E'19)
"I'm a 1st year medical student at UCT and I've been involved with volunteer work through SHAWCO Health society. The City of Cape Town asked SHAWCO Health to help in assisting them with the internally displaced/homeless people that they are sheltering at a site in Strandfontein. I volunteered at this clinic to see to their medical needs – most of whom have been screened for COVID-19 and TB. Although I am in first year and don't have much experience, I teamed up with a 6th year clinical student who took me through the screening and treatment processes – the knowledge & hands-on experience I gained was invaluable!
Through SHAWCO I have also been volunteering at the COVID-19 Hotline at Tygerberg Hospital's Disaster Management Centre. This includes taking down caller's medical history, managing patients concerns or fears and referring patients to the appropriate facility or recommended self-isolation depending on their risk.
UCT, Stellenbosch, CPUT paramedic students, doctors, and policemen on call, all work together at this hotline on a 12-hour day/night shift basis. It's been great to step out of my comfort zone, as well as learning from others in different fields!" (23 April 2020)
---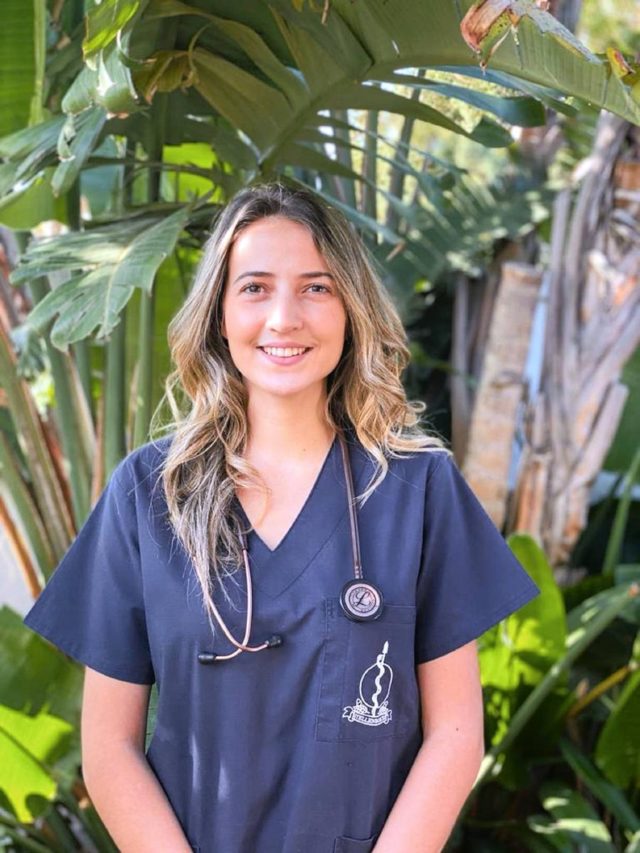 Rustenburg Alumna and 2020 Founders' Day guest speaker, Dr Leila Amien (E'12) was featured on the front page of the Southern Suburbs Tatler. (20 April 2020).
'Covid-19 is everyone's fight'
It's been a baptism of fire for 26-year-old Leila Amien, a newly qualified doctor from Rondebosch East, who is now at the front line of the fight against one of the worst pandemics in human history.
---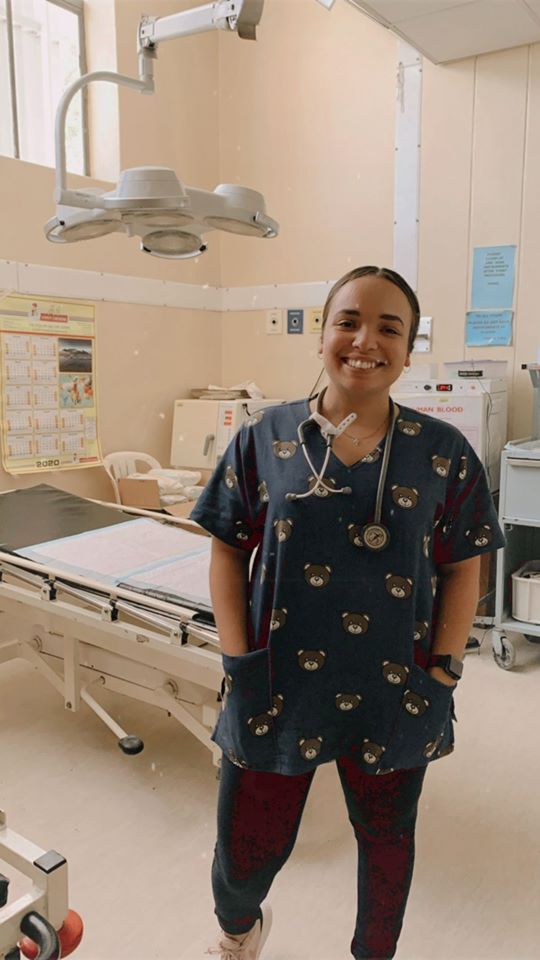 Kirsten Scobie (E'11)
"I am currently in my second year of internship at GSH, but I'm doing a rotation in family medicine at Vanguard Clinic.
Working at primary healthcare level really is showcasing how vulnerable our communities are and the shortage of healthcare workers during this pandemic. We are overburdened and the numbers of persons under investigation for COVID-19 has been rising every day, even the number of positive cases we receive back.
We don't have endless stock of personal protective equipment so we have to use it very sparingly, so one doctor each day will conduct the tests and it's so tiring. It's a scary thing to face and we have been scrambling every day for solutions to better combat this pandemic within the vulnerable communities.
Personally, I have had a lot of anxiety about this. I've had sleepless nights and anxiety attacks, and it becomes lonely when you have to go home every day and self-isolate in order to not put the rest of your family at risk. But I have resorted to some things to help me keep sane, such as doing daily mindfulness, journaling and praying, having video calls with friends and family. They have been extremely supportive and are constantly sending words of encouragement.
I'm not particularly excited to be on the front-lines, but this is what I have been called to do, I believe by God, and so I will serve the people because of that.
Stay safe and stay home. Let's combat this pandemic together!" (26 April 2020)
---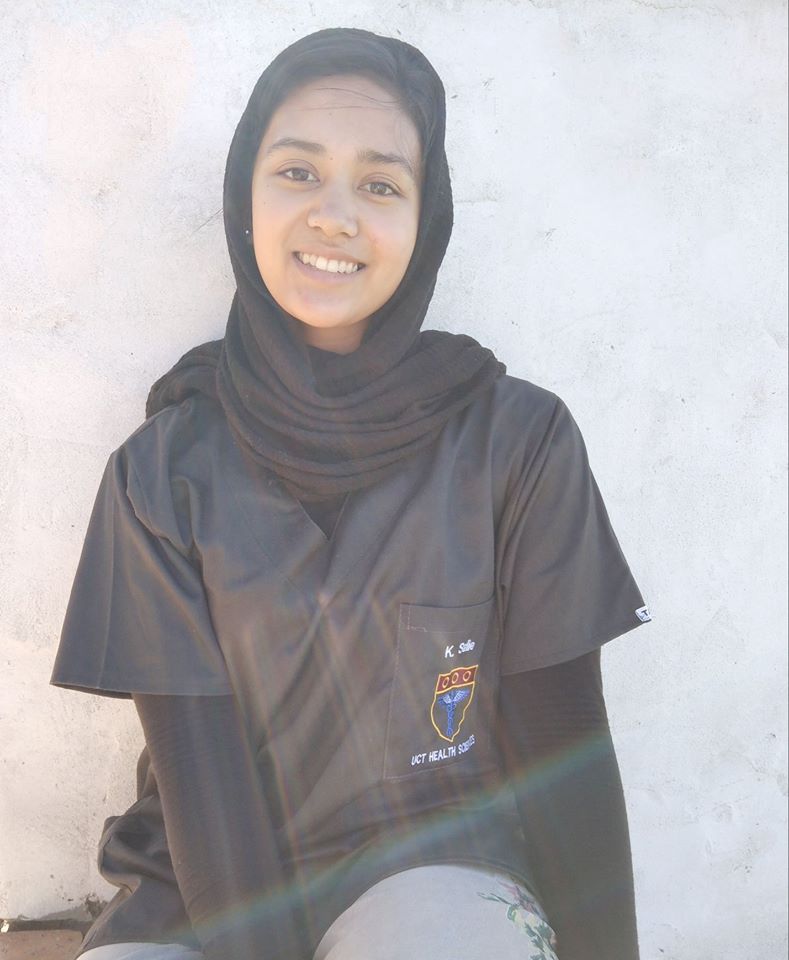 Kauthar Salie (E'16)
"I have seen the Instagram posts from Rustenburg Alumnae that have been assisting with the COVID-19 pandemic and it is heart-warming to see so many of my fellow Alumnae making such great contributions to the cause in our country.
I was motivated to share my story in the hopes of raising more awareness to the cause that I am part of and feel strongly about.
I am currently a fourth-year medical student at UCT and I am the fundraising director of SHAWCO Health, which is an organisation that many Rustenburg Alumnae are part of. SHAWCO Health is a community based, student-run NGO that provides free primary health care to under-resourced communities around Cape Town that is easily accessible, close to their homes and of exceptional quality.
Due to the COVID-19 pandemic we have not been able to go out to our communities and provide these services but we have been raising funds to ensure that the communities that we serve are able to cope during this time through campaigns such as #bekindonline.
In my capacity as the head of fundraising I have approached other organisations and Rotary Clubs and many of them have generously contributed to the cause. They've helped us achieve what we as an organisation strive to achieve – ensuring the health and well-being of our communities. I would like to use this opportunity to thank Kirstenbosch, Claremont and Waterfront Rotary Clubs for their generous contributions.
During this time, I feel that many of us are overwhelmed with many emotions and we all feel the need to assist in one way or another. If you are fortunate enough to assist your fellow South Africans, I urge you to do it. There are many NGOs doing incredible work at the moment and we all need your assistance no matter how small – it makes the world of difference. If you are able to assist SHAWCO please follow the #bekindonline campaign on social media or email health.funding@shawco.org with any questions."
Instagram: @shawco_uct (5 May 2020)
---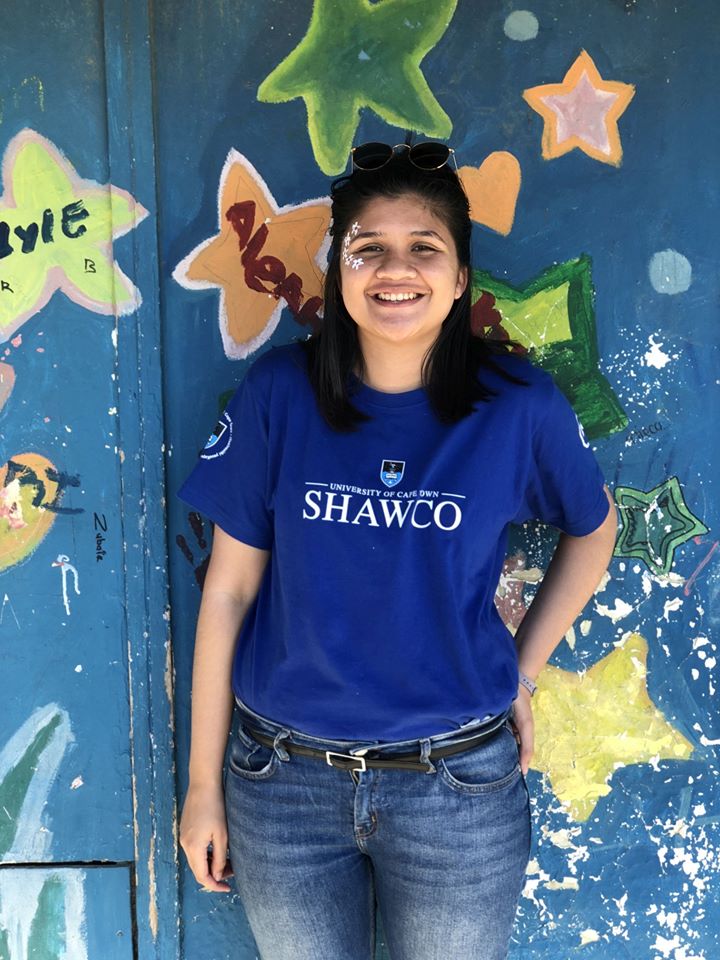 Raeesa Mathews (E'15)
"I am pursuing my honours in organisational psychology at the University of Cape Town. I am currently President of SHAWCO Education, which is a sector of the bigger organisation called the Students' Health and Welfare Centres Organisation. It is a student-led NPO based at UCT for over 75 years, which runs free health and education projects in under-resourced areas in the Cape Town Metropole.
I have been involved in the Education sector of this organisation for 4 years and believe wholeheartedly in the work it has been doing in the communities of Cape Town. There are so many beautiful children who are not afforded the same opportunities I was at my 13 years at Rustenburg.
Due to the lock down regulations, educational programs we usually run cannot continue. However, there are presently bigger issues happening in these communities. The COVID-19 consequences will have dire impacts on the most vulnerable in the communities, such as those who are unemployed and ill. Education and Health sectors of SHAWCO are running a project to raise funds for these communities.
The project, #BeKindOnline, aims to raise funds for two communities – Manenberg and Imizamo Yethu – that we have worked closely in over the years. Our aim is to feed 1000 people in the Manenberg community for a week and provide 500 families in Imizamo Yethu with a pack of sanitary products to protect themselves against COVID-19. We would like to raise R200 000 to meet the current target. If we get beyond our target, we would love to feed more people and provide more families with sanitation packs in other communities."
---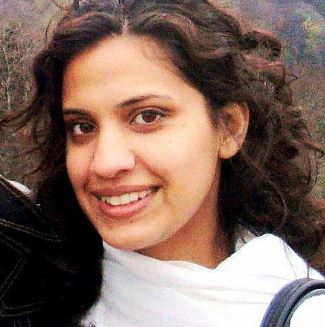 Shireen Mukadam (E2002) has a Master's degree in International Affairs from the Graduate Institute of International and Development Studies in Geneva, Switzerland.
"While I'm not on the front lines, I'm not a doctor, I became a human rights researcher though (I worked for the last four years with Amnesty International) and a writer.
Following the WHO declaring COVID-19 a pandemic, and after the President announced a State of Disaster on 15 March, I noticed in Woolworths that people were shopping with gloves and masks. Then, when I went back to my apartment, I noticed the domestic workers and security guards and I wondered how ordinary South Africans are responding to the pandemic. I sent out a call to friends and family asking if anyone knew domestic workers who were willing to be interviewed and I conducted interviews remotely. I then wrote an article which was published by the Daily Maverick Citizen:
https://www.dailymaverick.co.za/…/2020-03-29-as-the-middle…/
I think that sometimes we can get so caught up in our own worlds that we can't imagine the impact on people who have very little. This article was my attempt to show how ordinary people responded to the pandemic in the early days.
My wish is that we are always able to highlight the different realities that exist for human beings and to be mindful of this. I believe in the power of writing to shed light and to lead to change." (29 April 2020)
---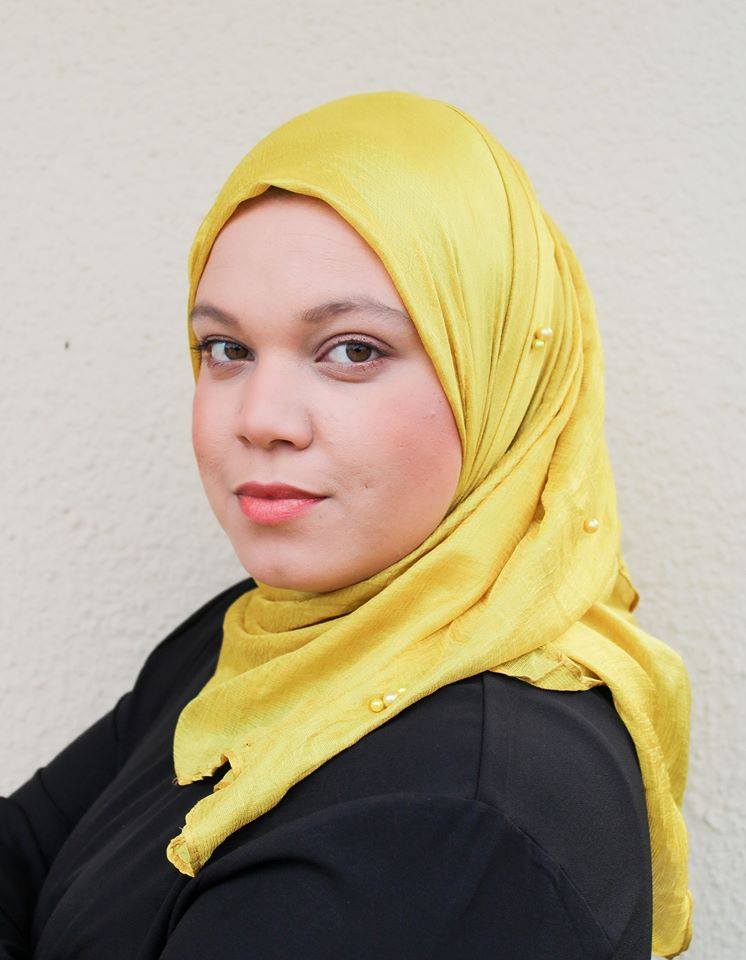 Mishka Kadir (E'10)
"I am an Occupational Therapist, running my private practice The Quam Project. I offer all OT services, outside of lock down.
Having recently worked in a private mental health facility, I realized that the 'mentally sick' are being put on the back burner and the focus is more on the physically sick during this COVID-19 pandemic. Having an affiliation with SADAG (South African Depression and Anxiety Group) has brought to my attention that their members are losing therapy time as their therapists are not unavailable during lock down.
Having this knowledge about those struggling during this time, and the fact that we cannot make physical contact with each other, I started a free lock down support group for those with depression and anxiety. The group takes place via Zoom, twice a week (Sundays and Wednesdays at 5 pm).
The group has been making wonderful progress and we welcome new members every week. Attendance is completely up to the participant as well. The group is a therapeutic one, with myself as the facilitator. Group members can decide if they want to activate their camera and mic, and they can choose to share or just listen. There is an aura of empathy and confidentiality which is commendable of all group members.
Even when among others, people with mental illnesses can still feel isolated and this can cause regression in them. They are alone with their thoughts, with no one to share it with – so one thought can progress to a sad thought then to a bad or harmful one and possibly a bad or harmful action which is what we definitely do not want!
To those with a mental illness, or just a vulnerable mental state at the moment, reach out for love and help. Stay safe!" (30 April 2020)
---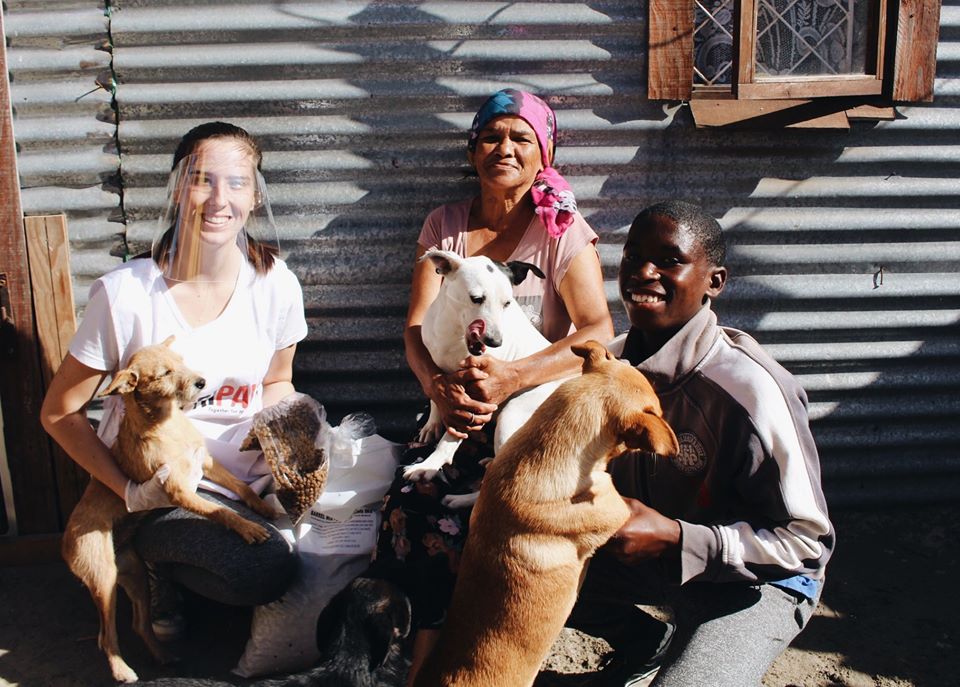 Lauren Gericke (E'19)
"I have had a passion for animals since I can remember. I started seriously volunteering as a result of a Grade 9 Life Orientation project. Since then my mom has become a strategic member of a local animal organisation as well as her and I have volunteered at several different animal organisations throughout the years. I also have been planning a trip to the Transkei in June/July to provide relief and education for the dogs in that area.
Afripaw is a local organisation that my mother and I have been volunteering with for the past two years. They aim to help provide free pet care for animals in informal settlements, especially the Vrygrond area and help educate owners on proper pet care.
Since the outbreak of COVID-19 and specifically, the enforcement of a nation-wide lockdown, people in informal settlements are suffering. Many are starving and have reached a great level of desperation, as a result, many cannot afford to feed themselves let alone their animals. Afripaw has set up an initiative where money can be donated to purchase pet food, which is distributed to pet owners around the Vrygrond community. Pet owners who attend the Afripaw monthly clinic and have proven themselves as responsible pet owners are prioritised and also supplied with pet medications such as Nexguard and other medications helping to alleviate mange, ticks, fleas, and other parasites.
On Friday, 24th April, Afripaw held its first distribution day where I was able to help by distributing the food throughout the Vrygrond community to ensure that the animals continue to be looked after and intern loved by their owners in this tough time.
These distribution days will continue to happen so that we can try to ensure that no dogs in the area starve or become incredibly ill. This initiative thrives off of donations so that food can be purchased to be able to be distributed.
I hope this story, while not as conventional as some of the others, helps to inspire those within the Rustenburg community to do what they can to help." (28 April 2020)